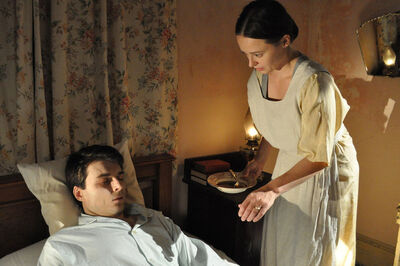 Love You to Pieces is the seventh episode of Season 6 of Deadly Women. It aired on September 28th, 2012.
Egyptian-born nanny and model Omaima Nelson has a track record of manipulating men; as a young woman, she begins seducing older men, then robbing them blind. In 1991, 23 year-old Omaima meets 56 year-old Bill Nelson. Instead of simply robbing her new husband, she murders him, and doesn't stop there. She goes on to dismember and consume his corpse.
Meanwhile, Lyda Trueblood is an early twentieth-century woman with a penchant for poison. She uses arsenic to kill several relatives, including her husbands and her own daughter. After getting caught for the crimes, Lyda escapes, and almost commits another poison murder before getting caught.
And Amy DeChant is a businesswoman who falls for Las Vegas bookie Bruce Weinstein. Shortly into their relationship, Bruce uses his monies to spoil Amy, who gets accustomed to living the good life, but when Bruce threatens to leave the relationship, Amy kills him and robs him of over $100,000.